Discover the NOWJOBS desktop version
The future is digital. And the future starts NOW! That's why NOWJOBS also has a desktop version in addition to the app. This means you can log in via your smartphone as well as from your PC or laptop. This makes staff planning easier than ever!
The desktop version is equipped with a planning tool and a working time registration system. This way you always have an overview and can easily react to unexpected absences. If you want to schedule more than 10 employees (m/f/d), the desktop version is the easiest and most clear option. The app displays the simplified version.
How does the desktop version work?
Step 1
Registration is completely free of charge
Register your company with NOWJOBS, upload a job ad for free and find a matching employee (m/f/d) today. 
Step 2
Log in via the desktop version and complete your profile
After registering, you can log in to our desktop version via your PC or laptop. To do so, go to www.nowjobs.de and click on "Login". Or just click here!
Once you are logged in, you can immediately complete your profile. The more information you provide, the more you can distinguish your company among the registered students. So fill in the right information, add a few words about your company and make your company profile attractive to students in the app!
Step 3
Post a job ad
You have the desktop version - students have the app - we connect! We've linked the desktop version to the app so you can manage your pool even more easily from your PC or laptop. Upload your vacancies and specify when you need help, for which position and how many people you need in total. Et voilà: The applications soon come in.
Step 4
Send a contract offer
Scroll through the applications and see the information on the candidates: from salary rates to experience, their status and reviews from previous employers. You choose!
Step 5
Confirm the hours and submit a review
Shift finished? With a straightforward time recording system, you confirm the working hours of your employees (m/f/d) or make any adjustments. It's super easy via the "Time recording" tab! 
Let us know how satisfied you are and evaluate the cooperation. Write a good review about your new staff and score up to five points. In the meantime, the employees (m/f/d) can also give you a rating via the NOWJOBS app and share what it was like to work for you. Win-win!
Are you already working with students with whom you are satisfied? You can also sign them up via the desktop version - at a favourable rate. Read all about Payrolling.
Tutorials
How exactly does staff planning work via the desktop version? Check out our tutorial here! Or check out all tutorials for employers on this page.
Rather use the app?
With our app, you can easily upload job ads for free - even up to 24 hours before the next shift. Available 24/7, wherever you are. Everywhere you go, always take NOWJOBS with you!
Find out here how it works. Step by step.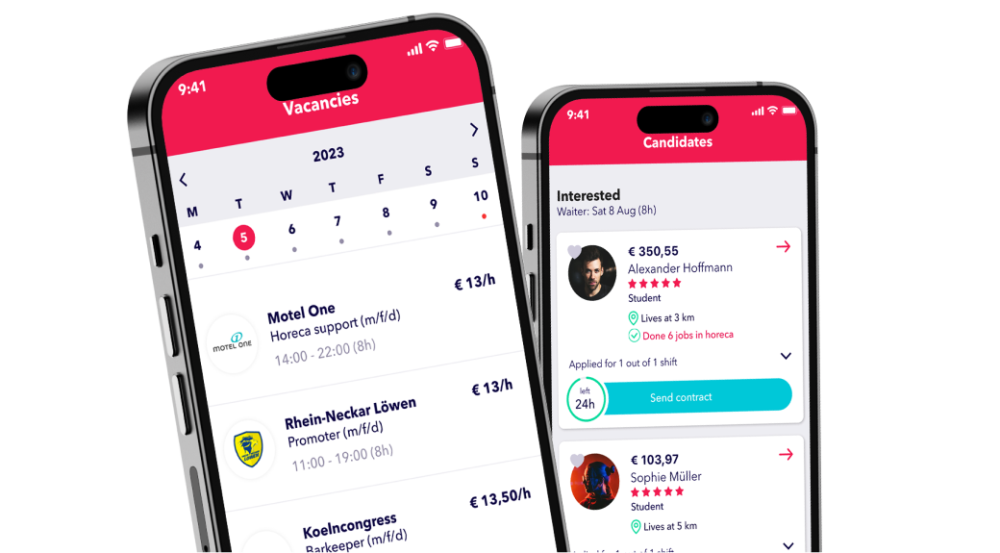 Stay up-to-date with the
NOW

planning tool

A busy week, a full-time employee (m/f/d) who suddenly drops out, or an unexpected cancellation... Creating a roster can sometimes feel like a full-time job. Luckily, NOWJOBS has a plan, or rather: a planning tool! Curious about what we can do for you? Discover how to create a clear and flexible online shift plan with the NOW planning tool!