Looking for
staff

or a

student job

?

Does your company need temporary student workers? Or are you a student looking for an exciting part-time job in your area? Your search ends NOW!

NOWJOBS matches students with employers who need extra support in their company. Swipe, work and cash in. And the paperwork? We'll sort it out, all the way from the contract to the payroll. Digital, easy and NOW.
Don't
believe us,
just watch
Always and everywhere available
After a hectic day at work, in the evening on the couch or sitting in class; the NOWJOBS app is available at any time. You can find the right part-time job or employee (m/f/d) wherever and whenever you want. 100% digital.
Transparent for everyone
As a company, you always see in the app what you will pay for the flexible temporary worker. You only pay for the hours worked. As a student, you see immediately what you will earn per hour. And your salary will soon land in your bank account.
Experiences
With our evaluation system, students and companies receive a rating. So you always know what you're getting into.
The app

for everyone & everything

An open job offer and the opportunity to earn some extra money. It's a match made in heaven! At least when companies and students can find each other. Luckily, there is a digital recruitment agency for your pocket: NOWJOBS connects the ideal student employee(m/f/d) with the matching company. This way, both sides don't have to browse the job market. Companies post job ads for free, students find the perfect part-time jobs in their neighbourhood.

#SwipenWorkCashIn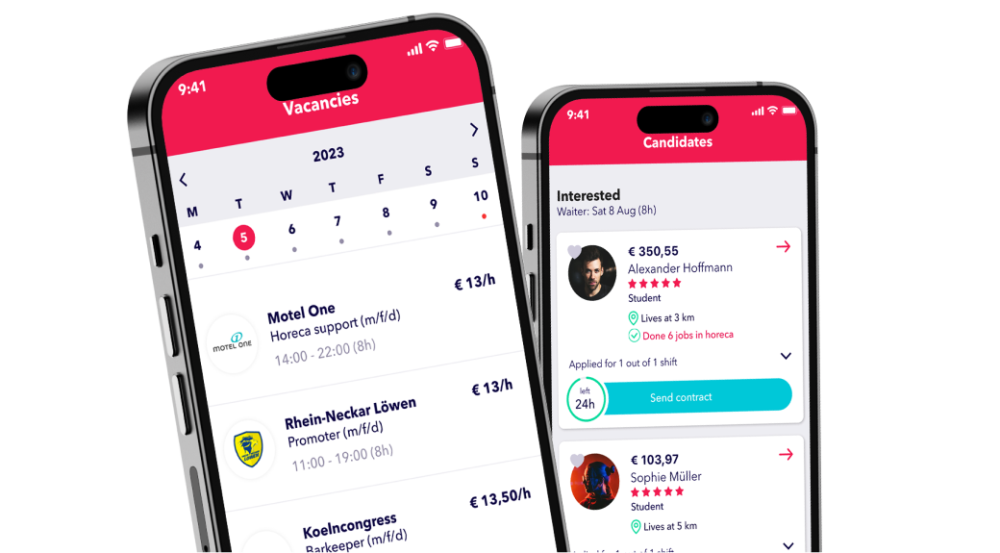 Do it like Anna, Philipp and Ina 
Join the NOWJOBS community and find your perfect part-time job. 
This is what our NOWJOBBERS have to say:
"My experience with the app has been very positive. What I particularly like is the spontaneity of it all. For instance, I'm currently working full-time in an unpaid internship. That's why it's especially convenient to be able to choose everything so spontaneously. And overall, it's just really user-friendly."
Anna - student
"I've been working with NOWJOBS for several months now, and what motivates me to work with NOWJOBS is that it leaves me with more time for leisure activities, the option to take a little vacation, and fulfill some personal wishes."
Philipp - student
"My experience with the NOWJOBS app has been very positive. The app is available 24/7, you can immediately see your earnings, and it's very fast and straightforward. I would definitely recommend the app because I believe that students should always be spontaneous and flexible, and you can always check if you feel like it and have the time. Then you can also encourage your friends to work together next time."
Ina - student
"The NOWJOBS app is very user-friendly. You can schedule a job very spontaneously, sometimes even on the same day. For example, if you have a class called off at university, which happens from time to time, you can apply for a job on the same day."
Philipp - student